Gridword
Gridword
Gridword is a fun, challenging word puzzle game for webOS, and Blackberry 10 devices. It can be played offline in single player mode, or online against others.
Support
If you have any problems, suggestions, or would like to get in touch, please e-mail support@petergordon (dot) org (dot) uk and I'll do my best to help out! You can also get in touch via the facebook page
How to play
The game consists of a grid of 4x4 tiles with letters: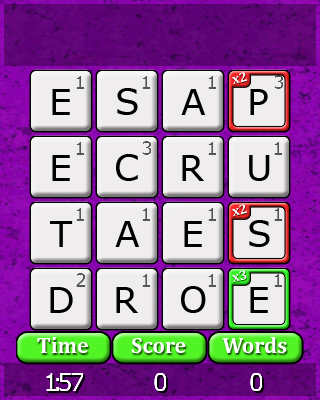 You have two minutes to find as many 2-16 letter words as possible. To select a word, press on the first letter of the word, and drag over the other letters. You can go horizontally, vertically or diagonally in any direction: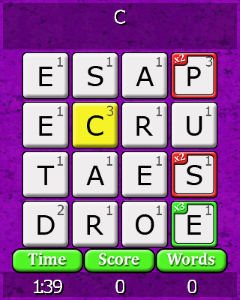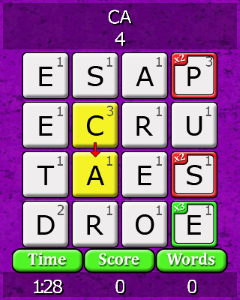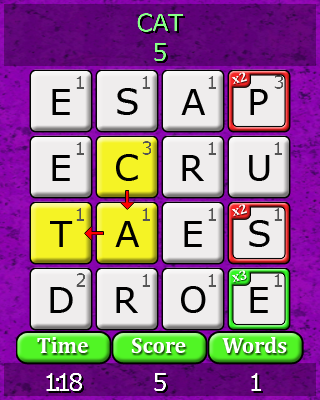 Your score for each word is the sum of the score on each tile making up the word. Tiles with multipliers multiply the overall score for the word. So, if you get a word that would normally score 10, but you include two x2 tiles, the final score will be 40 (10x2x2).
Menu options
When you first load the game, you should see a menu similar to this: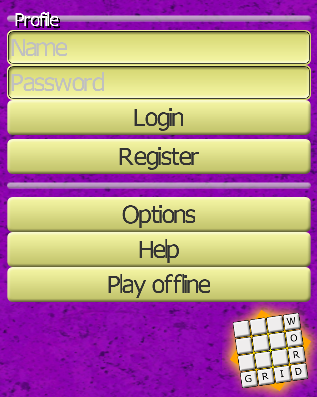 Select "Play offline" to play a single player game. The only other button on this screen not related to online play is the "Options" button, which brings up this page: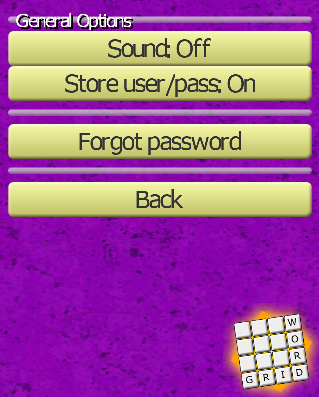 From this page, you can turn sounds on or off, set whether you want the app to remember your username and password, or request a password reset email. The sound and remember username options will be remembered locally on your device.
If you wish to play a game, you will first need to register an account. Pressing the "Register" button on the main menu will bring up a page where you will be prompted for a username, password and email address. The email address is (optionally) used to send you notifications, and so that you can reset your password if you forget it. We will never send you any unsolicited email, or give your email out to a third party.
Once you have registered an account, you can log in, and you will then see a menu like so: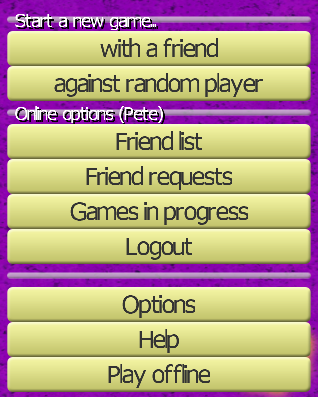 When logged in, the options page has a couple of extra options: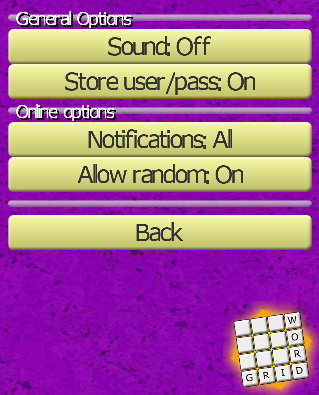 "Notifications" selects whether you want to receive notifications via in-app popups, email, both or neither. You will be notified when someone sends you a friend request, starts a new online game with you, or plays a round in an online game with you while you are logged out. If you have email notifications disabled, you will not receive any emails from Gridword.
"Allow random" selects whether you want people not in your friend list to be able to start an online game against you. Even if you have this set to "on", you will only be picked as a random opponent if you have logged in recently.
The "Start a new game... against a friend" option from the main menu will allow you to select a friend from your friend list and start a new online game with them.
The "Start a new game... against a random player" option from the main menu will search for another player who has "allow random" enabled in their options and has been logged in recently. It will then start an online game with them.
Online games have the same basic gameplay as the offline game, except that you and your partner will be presented with the same 3 grids, and compete to see who can get the highest score. The winner is the person who wins the majority of the rounds.
You can see your current online games by selecting "Games in progress". There is also a button on the "Games in progress" page to see previously finished games.
From either the "Games in progress" or "Finished games" list you can select a game to go to the round summary screen: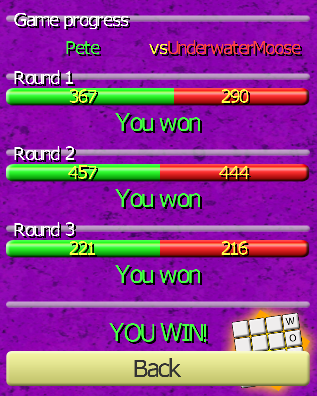 This example shows a finished game. On an unfinished game there is another button you can press to play the next round. For any round that you have played, you can click on the score to bring up more details about the round: